"A Log Cabin Winter"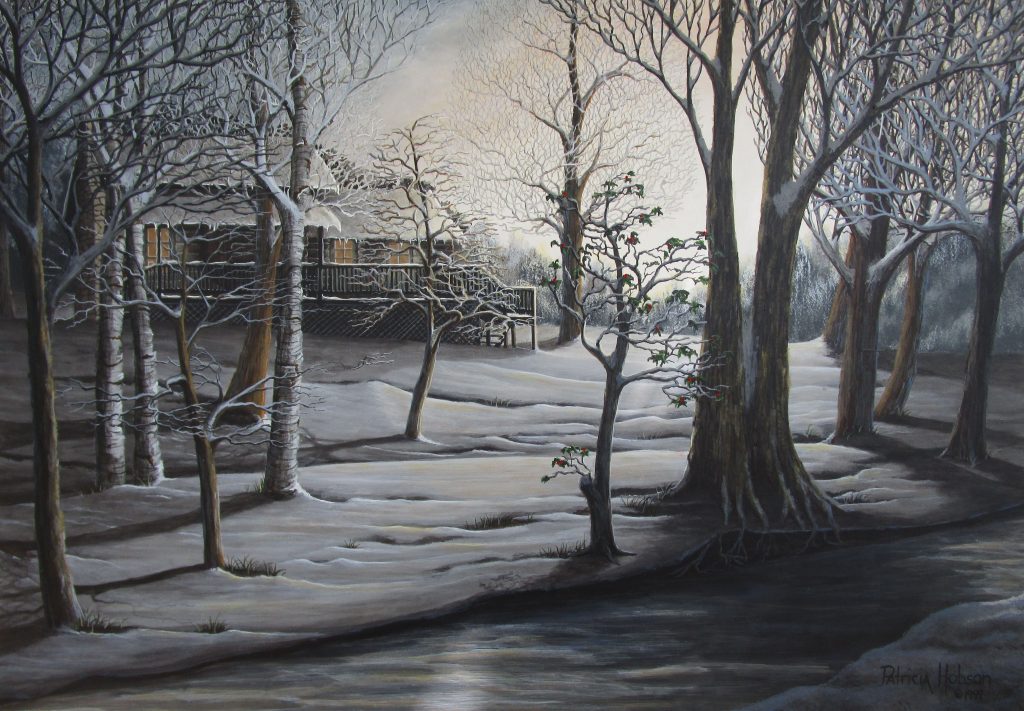 This print frames to approximately: 26.5″ X 21.25″
Call or text –

336-341-8029

or Email –

patriciahobson@yahoo.com
About This Winter Art Print Called

"A Log Cabin Winter"
As I sit here by a roaring fire in our fireplace on December 9, 2018 writing about this snowy winter art print, we are actually having an early snow storm here and expecting a foot or more of snow. About a year before I did the painting that these prints were made from, an older couple came into my gallery to purchase a print. While they were there they said "You should do a painting of our log cabin." Of course as you can imagine, I get that a lot. But, they went on to tell me that the cabin was out in the woods with no other homes or buildings near it and that it had been built from two old log tobacco barns that they had purchased. Each log of both barns was labeled as they dismantled them so that they would be able to fit all the pieces together perfectly when they rebuilt them. The cabin had been furnished with old antiques that they had collected over the years and had inherited from family members. The couple went on to tell me that they did have running water there but no electricity. It was a place that they could go to escape the modern world. That's not a bad place for anyone to have these days.
While watching the snow fall here today, I can clearly remember the day I took the pictures of this old log cabin here in Yadkin Co, NC. It was very early in the spring time. We drove down a long little road that wasn't much more that a pig path going deep into the woods. When we arrived, there was tiny little patches of snow in the woods left from a light snow that we had the week before. That's what made me decide that this should be a winter scene. I wondered all around the cabin taking pictures. Then Felix pointed out that there was a tiny stream a little bit below the cabin. He knows how I like to water to my paintings when possible. He had found my perfect view of the cabin.
For ten years in a row, I would do a painting that prints would be reproduced from for the United Way of Yadkin Co to give to everyone that gave $100.00 to the organization each year. This was one of those paintings. I am proud to have been able to help raise over three million dollars for the United Way during those ten years.
This winter art print will add a little bit of coziness to any room of your house or office especially over a fireplace.