"An American Castle"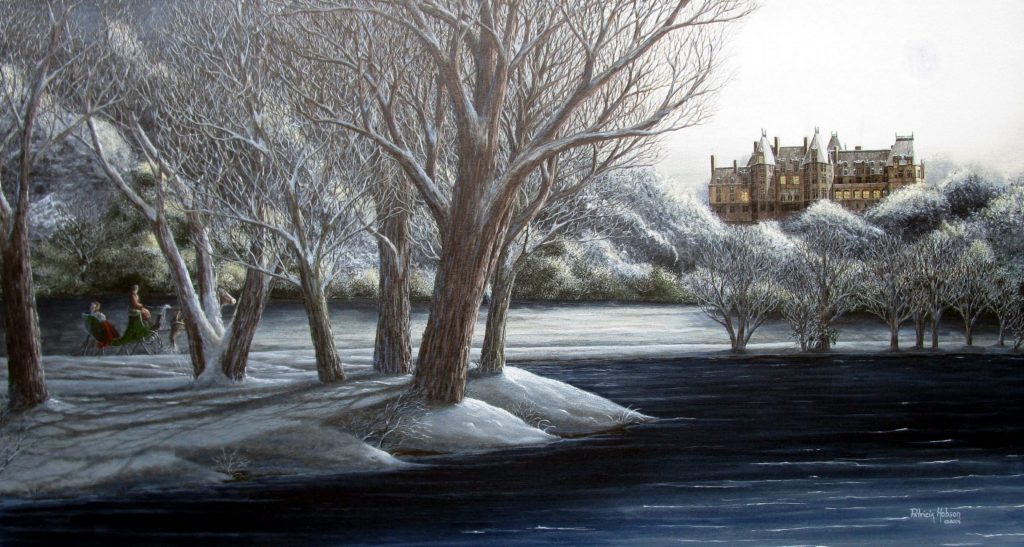 Image Size: 32.5″ X 17.5″
This print frames to approximately: 44″ X 29.25″
Call or text –

336-341-8029

or Email –

patriciahobson@yahoo.com
About this winter print,
"An American Castle,"

the Biltmore Estate
With the bright shining moon over a quiet snowfall, the romance of a moon light sleigh ride by the lake and the splendor of the Biltmore Estate, I present to you "An American Castle."
In 1889, by beginning construction of this magnificent private residence, George Washington Vanderbilt II, youngest son of William Henry Vanderbilt, brings the enchanting Gilded Age of European castles to life right here in America. Located in Asheville, NC, the interior of this massive 250 room mansion, that would take six years, 1,000 workers and 60 stonemasons to build, includes 65 fireplaces, 43 bathrooms, 34 bedrooms, 3 kitchens and a 74 ft. X 42 ft. banquet hall with a grand dinner table that seats as many as 64 guests.
In order to facilitate the construction of this huge residence, a 3 mile railroad spur was constructed to bring in the building materials. George brought in thousands of elaborate furnishings, that he purchased on his many buying trips overseas, For his new home. These things included hundreds of carpets, tapestries, linens, prints and more all from the 15th century and the late 19th century. An oak desk, a grand piano, bronze candlesticks and figurines, and wicker baskets were a few of the American objects that he included in his furnishings.
After George's sudden death in 1914, his wife, Edith, continued to live in an apartment in the Bachelors' Wing, until her daughter, Cornelia, married John Francis Amherst Cecil in April 1924. They had 2 sons. During the Great Depression, in March of 1930, the City of Asheville ask that they open their home to the public in hopes that it would bring in tourists that would come, spend money and bolster the area economy.
Inevitably Biltmore was closed during World War II. However, during the war in 1942, the National Gallery in Washington, DC moved all their artwork to the estate for protection in case of an attack on our capitol.
Fortunately for us now, this beautiful estate and it's castle are open to be enjoyed by everyone. Many paintings and prints have been done with the view of the front of this home. I have created a dream of taking a romantic sleigh ride by the lake with the view of this castle standing high on the hill in the light of the moon.
This beautiful winter print will definitely make a majestic statement in any room of your Home or office.