"An Ocracoke Evening"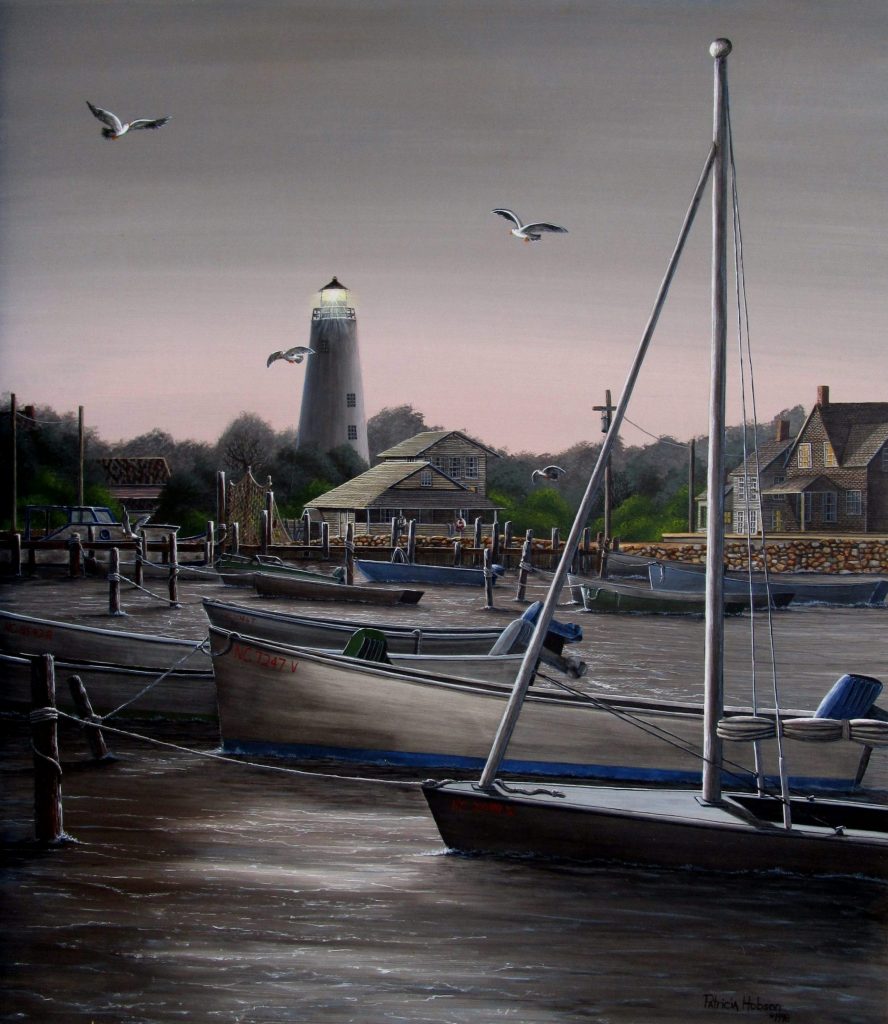 This print frames to approximately: 23.5″ X 27.25″
Price: $100.00
Call or text –

336-341-8029

or Email –

patriciahobson@yahoo.com
All about this lighthouse print called

"An Ocracoke Evening"
This is a lighthouse print featuring the "Ocracoke Island Lighthouse" located on the Outer Banks of the North Carolina coast. As with my Cape Hatteras lighthouse print, I chose to paint it in the evening with the light on. After all, lighthouses were meant to be seen with the light on. The light reflecting on the water, the stillness of the evening and the sail boats gives it the romantic feeling one automatically gets when visiting this quaint village.
For centuries, going way back to the first Spanish explorers of the late 1500's Ocracoke island was one of the dominant shipping ports of Coastal North Carolina. Ocracoke Island itself was famous for the pirates, including the notorious Blackbeard, who recognized the potential for riches along these barrier islands.
Realizing that a lighthouse was needed to help ships navigate through the Ocracoke Inlet, a wooden tower was constructed on a Shell Island, in 1794. As time passed the inlet's deepest channels moved, and along with it the maritime traffic. It became clear that a new lighthouse was needed in a new location. So, in 1822, the Government bought two acres of land on Ocracoke Island for $50.00 and had a better lighthouse and keeper's quarters constructed.
A Massachusetts-based builder, named Noah Porter built the new lighthouse in 1823. This strong brick lighthouse keeps it's white exterior due to Poter's mixture of paint made up of lime, salt, ground rice, whiting, and clear glue mixed with boiling water and painted on while hot.
This 75 foot lighthouse is much shorter than others along the Outer Banks that had to be seen from the treacherous and offshore Graveyard of the Atlantic waters. The lighthouse stands about 75 feet tall, is the second oldest lighthouse and the oldest one still in operation.
This romantic lighthouse print will make a beautiful focal point in any room of your house or office.