"Hale- Bopp"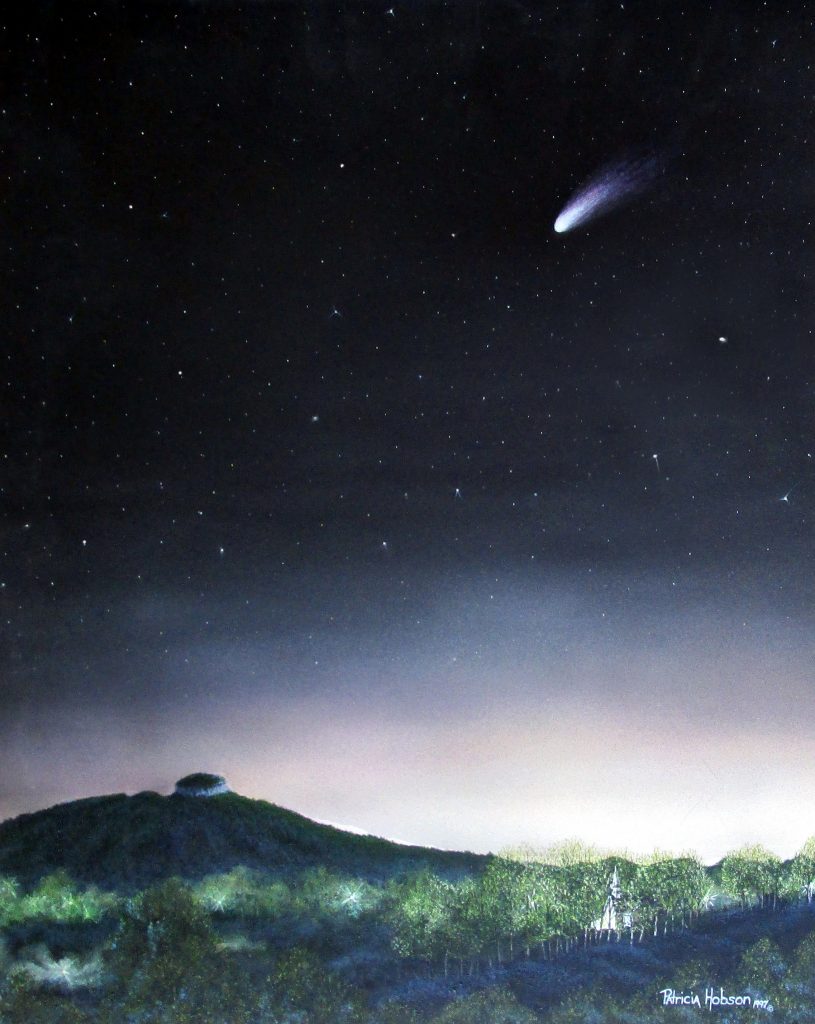 Image Size: 10.5″ X 13.75″
This print frames up to approximately: 19″ X 21.75″
Call or text –

336-341-8029

or Email –

patriciahobson@yahoo.com
About the Astrological art print

"Hale Bopp"
During the beautifully clear night of July 22, 1995, two American men in different states made the astrological discovery of the 1990's. One of these men, Thomas Bopp, was near Stanfield, Arizona with some other amateur astronomers when he first caught a glimpse of a mysterious, glowing object in the sky. The other man, Alan Hale, a professional astronomer, spotted the same object in the night sky and determined it to be a comet. Previously undiscovered, this new finding would come to be known as the "Hale-Bopp" comet, a collaboration of the names of its two original discoverers.
The "Hale Bopp" comet, with its brilliance and distinct visibility from Earth, drew an abundance of attention and spawned controversy and speculation that will be reflected on for many years to come. The paranoid grieved over the possibility of such an enormous celestial body striking our planet, causing mass destruction and calling an end to mankind as we know it. Others believed the comet was accompanied by alien spaceships that would transport their spirits to a higher realm, beyond that of their physical bodies and material existence. This bizarre theory theory led to the organized mass suicide of a cult in San Diego, California on March 26, 1997. Thirty-nine men and women took their own lives in response to their extraterrestrial beliefs regarding the comet. This terrible event will forever be tied to the memory of the "Hale-Bopp" comet.
This comet is a recent astrological find that will not be seen from earth again for another 4300 years. Its controversial path and once-in-a-lifetime status has inspired me to capture this brilliant comet in this painting "Hale-Bopp." This piece portrays the comet as seen above Pilot Mountain, North Carolina. Due to enormous response, I made the decision to release the image in a set of open edition prints. What a great way to remember this event and share the experience of seeing it with future generations!
This astrological art print will be a great conversational piece for any wall in your home or office.