"Holiday Spirit"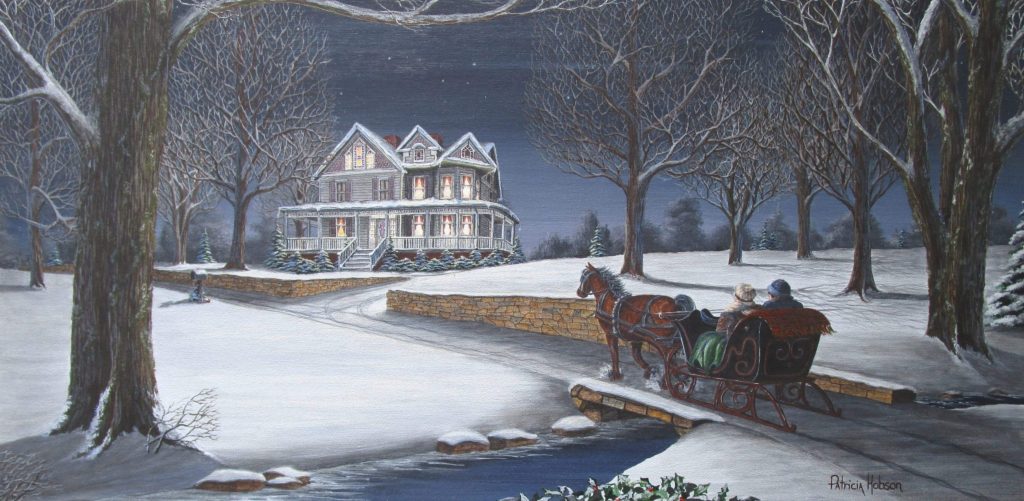 This print frames up to approximately: 20.75″ X 32″
Call or text –

336-341-8029

or Email –

patriciahobson@yahoo.com
About the Winter Art Print Called

"Holiday Spirit"
I think a lot of people have on occasion have had the fantasy of taking a sleigh ride. I know I have. Since we seldom get enough snow here in NC, to even go sledding, I figured that doing this scene would be as close as I would ever get to that perfect sleigh ride. While pulling my ideas together for this painting, a friend told me about this beautiful old Victorian home which is located just off Broad Street in the historic section of Winston-Salem, North Carolina. Painting this piece was a delight.
The painting was completed in the fall of 1993 and the winter art print was released in November of that year. However, as luck would have it, we had enough snow the following winter that we probably could have taken that romantic sleigh ride. We had six Shetland ponies ready for the ride, but unfortunately no sleigh.
Well, I'm sixty Five years old now. And, we've got twenty some Shetland ponies and about that many miniature Mediterranean Donkeys but still no sleigh. Since doing this painting of a sleigh ride, I've done a painting and an art print featuring moon lit sleigh ride by the lake behind the Biltmore Estate. I'm still waiting on my long romantic sleigh ride!
Below is a tiny bit about The West End Area.
The West End Historic District of Winston Salem, North Carolina was listed in the National Register of Historic Places in 1986. It is predominately a residential section of Winston Salem with 508 buildings. Originally it was started as a scenic streetcar suburb at the turn of the 20th century. The buildings date back from 1887 to 1930. The variety of architectural designs of the neighborhood include Classical Revival, Colonial Revival, Victorian, Queen Anne, Bungalow and American Craftsman. Other buildings still in the area include St. Paul's Episcopal Church, Augsburg Lutheran Church, Friend's Meeting House, the Church of Christ and finally Joyner's West End Grocery.
This beautiful winter art print will add a touch of romance to any wall in your home or office!