"Hometown Christmas"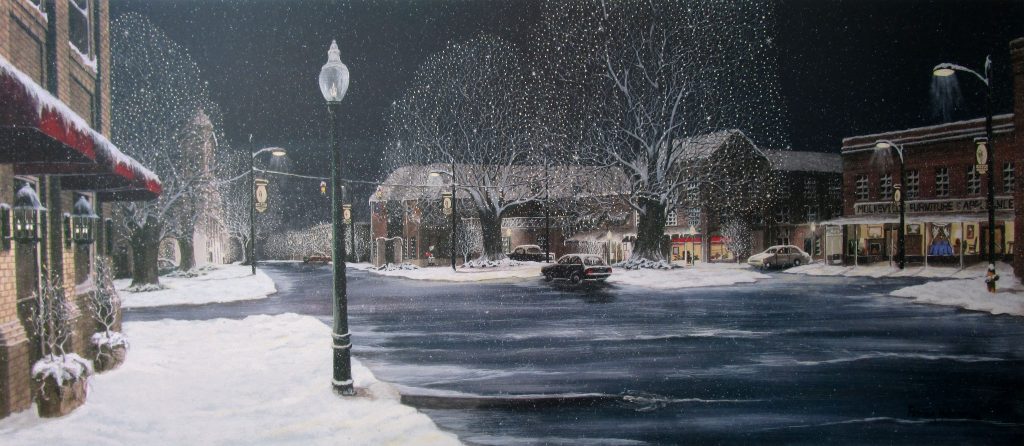 This print frames to approximately: 33.5″ X 19.5″
Call or text –

336-341-8029

or Email –

patriciahobson@yahoo.com
All

About This Winter Art Print

"Hometown Christmas"
I was born and raised in the small community of Courtney in the southern part of Yadkin Co, NC just about 16 miles due south is Mocksville, NC which is the town featured in this art print. I can clearly remember my Mother and Dad taking my sister and I to this little town to see the Christmas lights every year. What a warm and cozy sight it was. The huge oak trees were lit all the way to the tops with white lights. The store windows were lit and decorated with their goods in the style of the holidays.
Many years later, in the spring of 1997, I was asked to do a painting to be reproduced and sold as a fund-raising project for Davie County High School. One day in the late spring, I met with the Lady that was in charge of showing me the sights in and around the town for me to decide on a scene to paint. We met just outside of town and cruised around looking at the suggested sites most historical buildings. Then, as we drove into the town of Mocksville, which happened to be the county seat of Davie county, I told her to pull over and get out of the car. As we got out, I said "Turn around. This is it! We'll call it "Hometown Christmas." Of course it was in the spring and there was no snow when I took pictures that day. So, I got to use my artistic liberties and create my own blizzard.
The painting and art prints were done in the the summer. This winter art print were to be sold in the fall, just prior to the holidays. I had always wanted to do a small town holiday piece. So, this was my opportunity. I feel that the finished painting with the icy streets, falling snow and holiday lights can easily rekindle memories within all those who have either lived or grown up in a small town.
Many people say this scene reminds them of the Christmas movie "It's A Wonderful Life."
The general public's response to this limited edition winter scene was so great that orders were taken for nearly half of all the prints before their release date. The School and I shared in the profits from the sales. I'm proud to say that the school raised enough money to put in an all new computer department. Fortunately for you, I still have a few of these art prints.
This beautiful winter art print will make any room of your home or office warm and fuzzy!