"On the Green"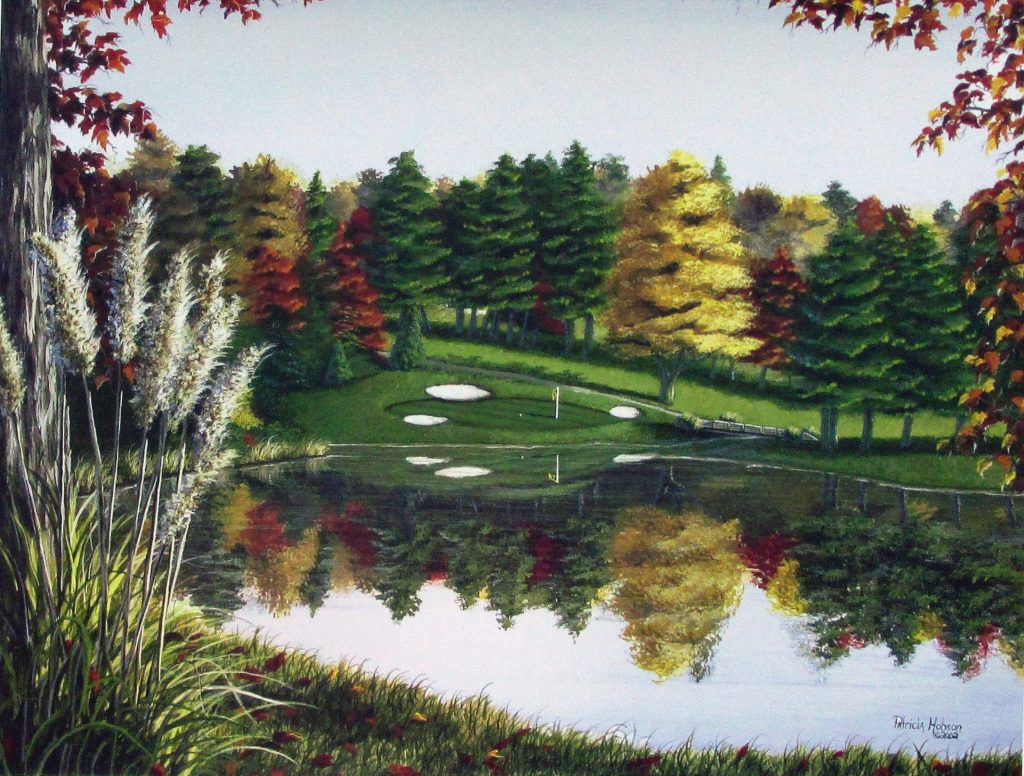 This print frames to approximately: 22.75″ X 18.75″
Call or text –

336-341-8029

or Email –

patriciahobson@yahoo.com
About the golf prints called

"On the Green"
This golf print features one to the greens at the Yadkin Country Club which is located about five miles from my home. The country club was organized and constructed of this private members only club began in the early 1960's. The club offers terrific views as well as a challenging course of play for each level of skill. All the staff are gracious and always glad to offer secrets and tricks to help you have your very best round.
I've never been a golfer myself. But, from what I hear, my daughter can really swing a club and putt a difficult green with ease. So, I may not be able to play the greens, but you bet, I sure can paint them. This golf print is the last of four that I have painted. The other three prints were all of the beautiful Tanglewood golf course in Clemmons, North Carolina.
In the spring of 1994, it appeared quite odd to me that of all the golf prints that are on the market the beautiful courses of North Carolina had gotten so little attention. The fact that no one had done a golf print of the beautiful Tanglewood course, of Clemmons, NC, was a mystery to me. After all it was the home of the Vantage Championship of Seniors as well as being one of the most beautiful courses in our state. So, I said "Why not?" and started painting. I'm so glad I did. The folks with the Vantage championship were excited about my decision to paint the 14th hole (the signature hole) golf prints as well as being of great support and a great group to work with.
The first hole that I chose to paint was the signature hole number 14. That beautiful golf print was called "The Stone Bridge." "The 18th Hole at Tanglewood" was the second golf print in the series. "The 12th Hole at Tanglewood" was the third golf print in the series.
These beautiful golf prints will look great on the wall of any golfer's home or office.
Click on the links below to view the other three golf prints that I have available.