"Our Town"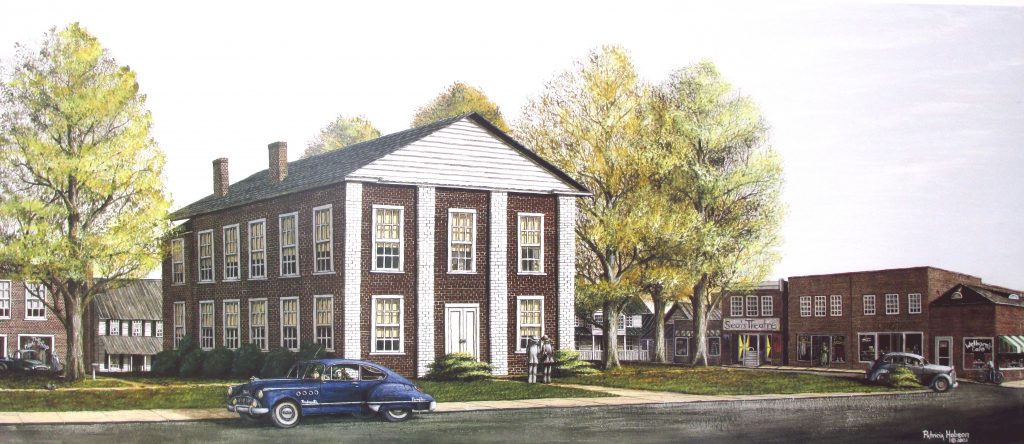 Image size: 11.5″ X 25.5″
This print frames up to approximately: 22.5″ X 36″
Call or text –

336-341-8029

or Email –

patriciahobson@yahoo.com
"Our Town"

Yadkinville, North Carolina
Inspired by the history and years old memories of my hometown of Yakinville, North Carolina, I have recreated this limited edition print of "Our Town" circa 1950. The painting features the stately old court house which was demolished in the mid 1950's to make way for a new and improved building. I realize that the courthouse was old, outdated, too small and needed to go. But, the new one that still stands in the town square today, in my opinion,is down right unsightly. It looks like a huge box sitting on top of another smaller box. That's just my opinion though. The buildings surrounding the court house (from left to right) are The Men's Shop, the old hotel, the Harding house, Mason's Hardware, the Seat's Theater, John D. Holcomb's Store, the Five & Dime Store and Welborns Cafe. Except for the old hotel these buildings are still standing. Some have been re-purposed.
At risk of giving away my age, some of my fondest memories like many other kids of the time were of going into the 5&10 with a dime in my hand and a big decision of what to buy. Then, there were the trips by the old hardware store with a great new wooden sled sitting right up front in the window. Tops on my list of memories was when my parents took me into the John D. Holcomb's store to pick out my first pair of cowgirl boots! You see like many young girls my dream was to have a horse of my own. That dream came true at the age of eleven. My Mom and Dad bought me a beautiful paint mare and her almost grown son. I was so proud. I had my horses and my shiny black and blue stitched boots that we bought in "Our Town" Yadkinville, North Carolina.
This historical art print will certainly add a bit of nostalgia to any room of your house or office!