"Happy"

the Snowman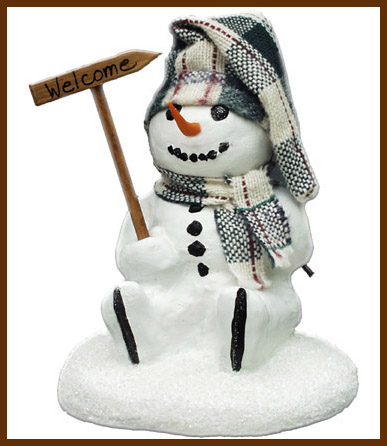 This sculpture stands 6.5″ tall Price: $50.00
Call or text –

336-341-8029

or Email –

patriciahobson@yahoo.com
All about
this little snowman sculpture called

"Happy"

Hi, my name is "Happy." I was originally conceived as a cute (or as I like to think Handsome) snowman on a porch in the painting "Let It Snow" done by my friend and creator Patricia Hobson in October of 2000. As she assembled me on the porch I couldn't help but smile and let out a little giggle. Her brush did tickle, especially when she painted my skates. My feet are very ticklish. She says I make her feel good every time she looks at me. So, she named me "Happy."

After releasing my portrait, called "Let it Snow," I suggested that she do a sculpture of me to go along with my portrait. Well, she did. Now I will be very happy to go home with you. I hope I can make you smile too!

Each reproduction is individually painted by Patricia; therefore, the colors may vary slightly. The fabrics for the hats and scarves vary in patterns and colors as well. They give each "Happy" his own unique character.
A Note from from Patricia
It had been a few years since I had done "Granny's Rocker" and "Holiday Spirit." But, while painting this snowman on the porch, I just felt compelled to to do this little guy. So, after finishing the the painting, I got the clay out again and began to shape this chubby dude. This time making the reproductions would be different. When I finished shaping this little snowman sculpture decided to make the molds, reproduce, paint and do everything myself this time. So, like with the snowy mailbox sculpture, "Holiday Spirit," I did it all and am very proud of all my little snowmen.
Thank you for your appreciation of my work.
Patricia Hobson