"Simple Elegance"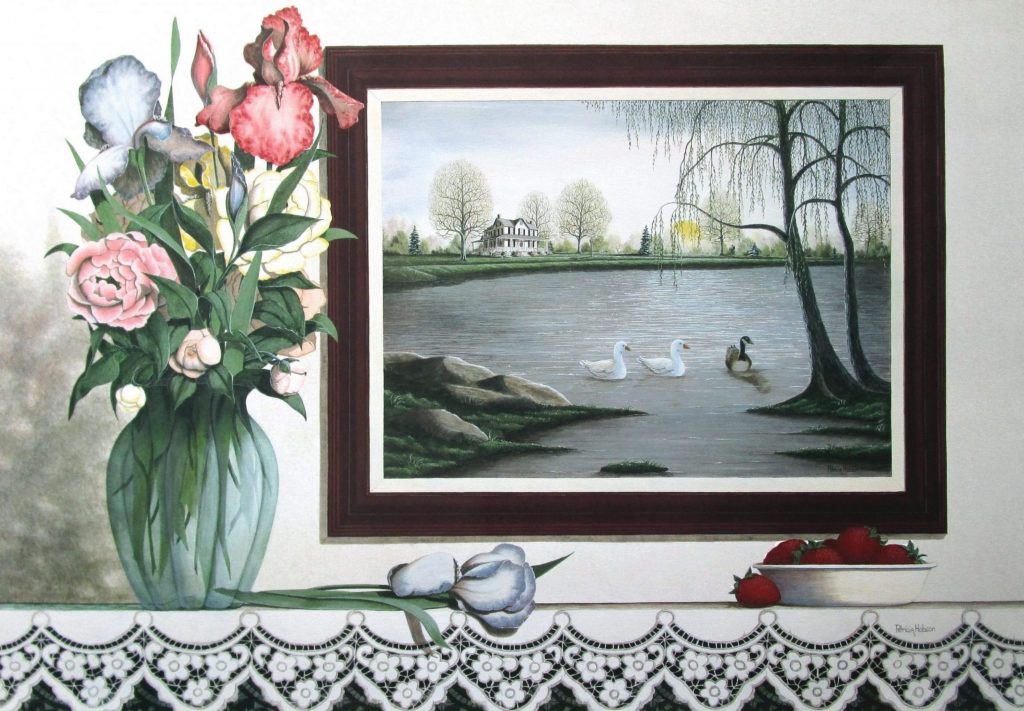 This print frames to approximately 31.25″ X 39.5″
Price: $100.00
Call or text –

336-341-8029

or Email –

patriciahobson@yahoo.com
All about this floral art print called
"Simple Elegance"
Since I am constantly trying new subjects and techniques, I wanted to do a painting that would be reproduced as a floral art print and was an elegant still life as well. However, at that time in my career, my public was only used to my landscapes. So, the idea occurred to me to do a still life painting with a landscape painting on the wall in the painting. This way, I was able to do my still-life and a landscape at the same time. I very much enjoyed venturing out and painting this large still life.
The flowers that are in the antique vase, which I borrowed from a friend, came from the Holden Lilly farm in Huntsville, NC. I had previously done a painting and subsequent prints of the back yard of this old plantation setting. That print is called "Spring Bouquet" and is also available for purchase on this site as well. This being a spring print just had to have strawberries in it especially since they are my very favorite fruit. The tatted mantel runner that I used was one that I found in an antique shop just outside of Hillsville, Va.
The little painting on the wall features the willow trees and geese that are in the pond here on our farm. The geese were given to me shortly after I got married and lived here on our farm for twenty years. After the goose became ill and died one winter, the gander quit eating and slowly passed away three months later. The Veterinarian said there was nothing we could do because they mate for life. They had a good life of twenty five years here on our farm.
Now the house and scene that I put on the other side of the pond was completely out of my imagination.
This floral art print will look especially beautiful in your dining room or over your buffet!