"The Chapel"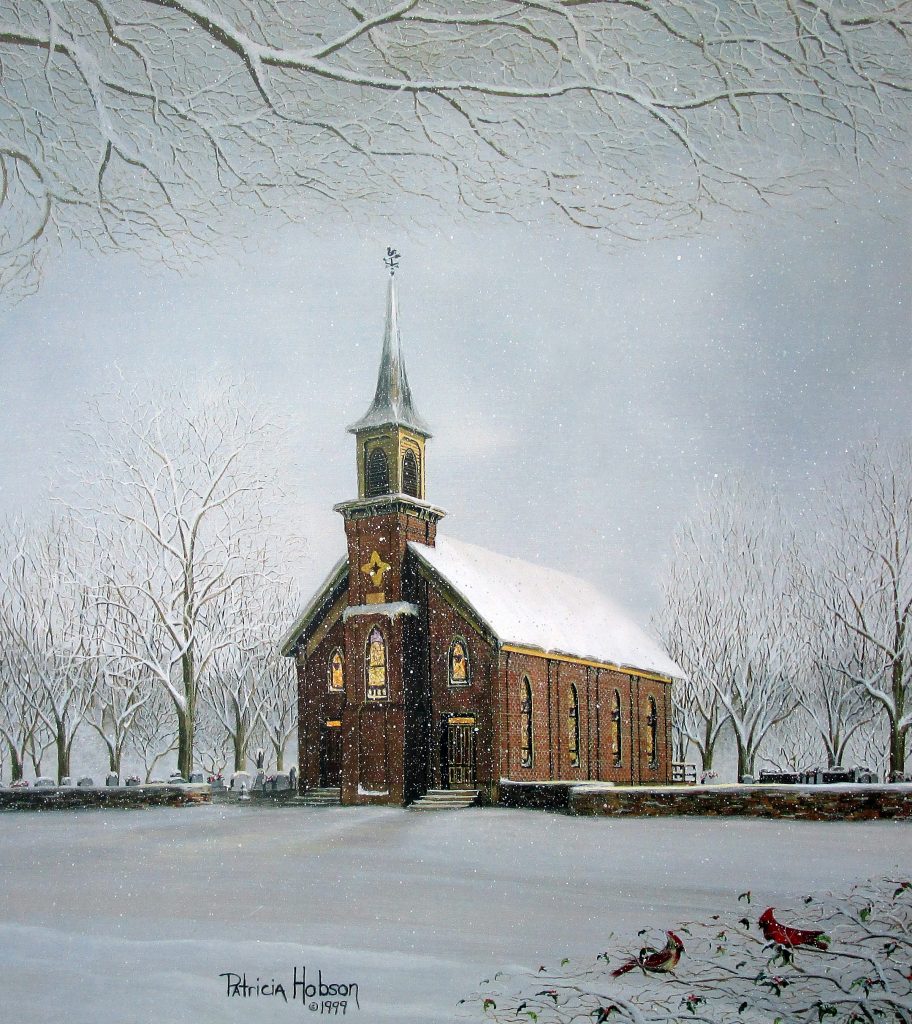 This print frames to approximately: 21.5 X 23.75″
Call or text –

336-341-8029

or Email –

patriciahobson@yahoo.com
About the Fulton Methodist Church that is featured in

"The Chapel"
I love painting old historic places helping to keep them and their history on this planet alive. After all, our history is where we come from and who we are. This is one of those pieces of history that is important to the people of Davie county, North Carolina.
"The Chapel" is a painting I did of the historic Fulton Methodist Church in Davie County, North Carolina. The Fulton Methodist Church was built in 1888. It is a one story brick building with vernacular Gothic Revival and Italianate design elements. It has a steeply pitched gable roof, bracket cornices, a large pointed arched window and five stage tower. This church was placed on the National Register of Historic places in 1979. The church was constructed of locally made bricks and was financed by members of the Hanes family of Winston-Salem, NC. The five-stage center tower, lancer arched windows and bracketed cornices make it one of the most accomplished and impressive church buildings in Davie County. The two front entries represent a time when men and women were segregated at the church and were not allowed to enter through the same door.
The graves of Winston-Salem industrialists Alexander Martin Hanes, wife Jane March Hanes and their son, Benjamin Franklin Hanes, can be found at this church cementry. Alexander settled in Fulton of Davie county where he owned and operated a huge farm among many other businesses. One of these businesses was one of the largest tanneries in that section of the state.
In 1965, Miss Catherine Hanes left a large sum of money to Fulton which was used to build another church on the same property. That structure, completed in 1969, has been used for worship ever since. Having stood for over a century, the early 90's found the church in a state of disrepair. This prompted Historic Davie, inc. to take on the church as it's next project. Three years later, Fulton Methodist was back in it's original condition. It's magnificent steeple and bell tower glimmered in the sun once again.
This small historical print will be perfect for that little spot in any room of your home or office.