The Meeting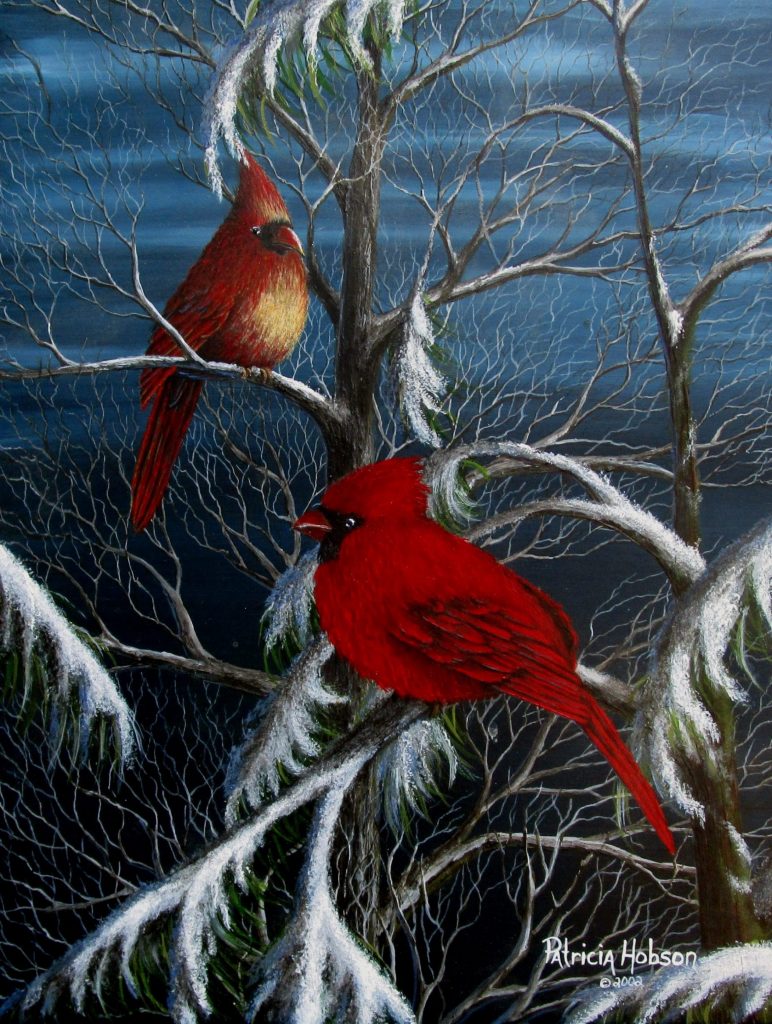 This print frames to approximately:17.25″ X 20.75″
Call or text –

336-341-8029

or Email –

patriciahobson@yahoo.com
About this cardinal art print called

"The Meeting"
The all American Cardinal. How could anyone not appreciate the beauty of this bright red bird. The males have their strikingly red feathers and black mask. While the females stand out with their red accents on brown feathers. Especially loved here in North Carolina, they brighten our state bird as well as six other states. They do not migrate so they brighten our properties all year round. We have been fortunate here living on the farm. There are a lot of feed pellets, corn and seeds left by the cows, donkeys and ponies that keep our cardinals and other birds nice and fat.
Over the years, I've done several paintings and a sculpture featuring this regal creature of the sky. All of which have been some of the most popular of my works. This piece has been no exception. I personally think it's a bit romantic. A pair of cardinals meeting to take refuge in the pines on a cold snowy evening. Native Americans say that they are a symbol of hope, joy and good health.
Cardinals are magnificent birds that mate of life and can live up to fifteen years. Unlike other female birds, Cardinal females sing. So, during their courtship a mating pair will sing together. Then, the male will collect food, bring it to the female and feed it to her beak to beak. The pair then works together building their nest where the female will lay two to five eggs once or twice a year. They rarely use the same nest more than one year. As for food, they prefer the larger seeds such as sunflower and safflower seeds, peanuts and cracked corn. While these seeds are their favorite, they will eat smaller seeds if they are not available.
This cardinal art print will always brighten your home or office.
"The Meeting"

frames up nicely as a companion piece to the art print

"Holiday Snow"
Click on the image below to see "Holiday Snow"
"Holiday Snow"