"Wine Country"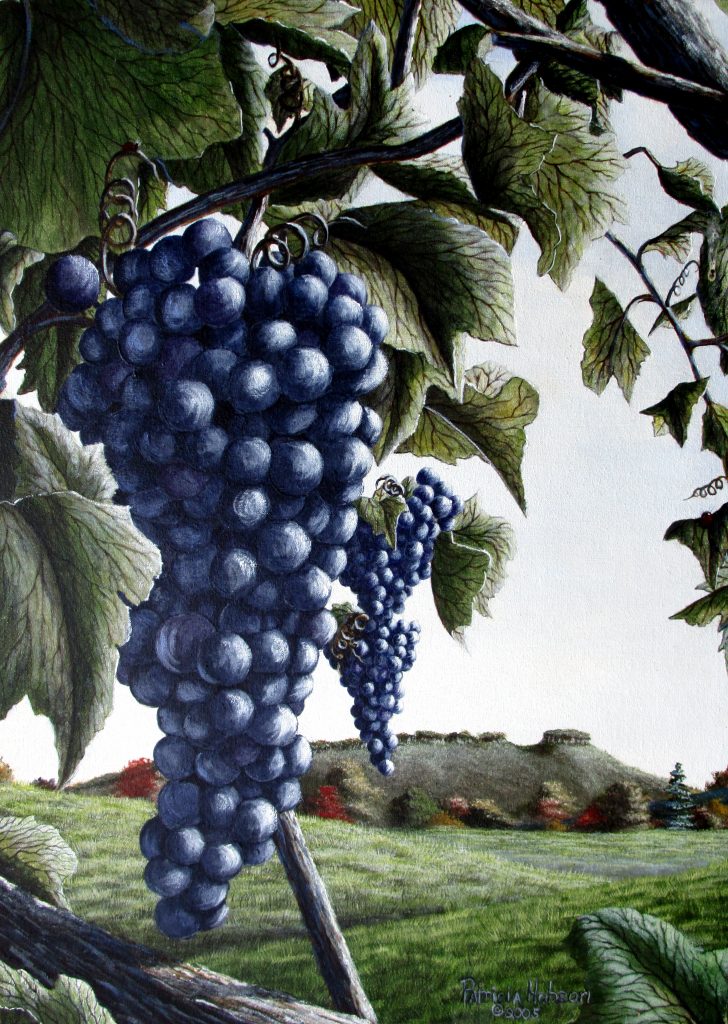 This print frames to approximately: 23.5″ X 29.25″
Call or text –

336-341-8029

or Email –

patriciahobson@yahoo.com
About this North Carolina vineyard art print called

"Wine Country"
It seems like in the last twenty years vineyards and wineries have been popping up all around my home here in the foothills of North Carolina. These beautiful vineyards make for wonderful settings for paintings. So, when I decided to do a painting featuring a vineyard, I only had to drive three miles away to find the perfect scene. Here was delicious blue grapes hanging on the vines with Pilot Mountain in the distance.
Here's a Bit of the History of Wine Making in North Carolina.
The early settlers that came to North Carolina in the 17th century found Native American grapes growing wild. The main one, being the Scuppernong, produced a sweet which is still being produced. By the mid 1800's there were many vineyards and 25 wineries here in NC. North Carolina was dominating the American wine market with their sweet Scuppernong brew. With the end of the Civil War, plantations and wineries were destroyed and the South no longer had the manpower or money to continue dominating the market. Slowly, decades after the war the NC wine market recovered only to have another major setback with North Carolina voting to become a dry state in 1908 along with the onset of Prohibition. Wine Making legally ended in NC.
With the end of wine making, North Carolina grape growers would move to growing tobacco which had been growing in America since the 17th century. The tobacco market would then become and still is the main economic driver here in NC. In 1935 NC legislatures would finally pass laws permitting wine making to begin once again. However, it was decades before it would show significant growth. In recent years, with the government cutting back on tobacco subsidies and growing acreages, many tobacco farmers have moved over to growing grapes and making wines.
North Carolina now has 186 wineries and more than 525 individually owned grape vineyards cultivated on 2,300 acres of land across the state. Our state now ranks 11th in the production of wine here in the United States.
Twenty years ago, our daughter graduated from college and moved to California. Since then, with all the wineries that have been established here during her absence, she is like a tourist when she comes home for a visit. I think she has finally toured all of our wineries within 75 miles of our home. We taste a lot of wine when she's home.
This vineyard art print will make a beautiful accent to any room of your home or office.