"My Best Friend"
Image Size: 26.5″ X 16.75″
This print frames to approximately: 38.25″ X 28.25″
Call or text –

336-341-8029

or Email –

patriciahobson@yahoo.com
All About the winter art prints called

"My Best Friend"
I had been working with the idea for these winter art prints for a few years. At last, it came to life. My goal was to create a scene of comfort and relaxation a place where anyone would want to be. It finally came together with the peacefulness of "A Winter's Eve," my first Christmas print, over the fireplace, the warmth of a fire and a country quilt, the romantic glow of candlelight and of course the companionship of my best friend, Elsamay. The scene is loosely based on our living room. We have a rock fireplace like the one in this scene except there are cabinets on both sides and no Clock.
The beautiful star pattern quilt featured on the chair was one that I saw at an art show that we were doing in Philadelphia one winter. The couple who made it were showing and selling them at the show. Unfortunately the quilt, being handmade, by the couple, was way out of my price range with three kids in college. They were glad to let me take pictures of it for my painting though. They were a unique pair. She would piece the quilts and he did the quilting.
Elsamay, of course, was the Cocker Spaniel laying in front of the fireplace. She was given to me by my late Mother in 1988 and immediately became my best friend. When I would paint, she was always by my side lending her companionship and support.This is my tribute to a warm winter evening by a fire with "My Best Friend", who unfortunately passed away in June of 2005."I miss you Elsamay," Love MOM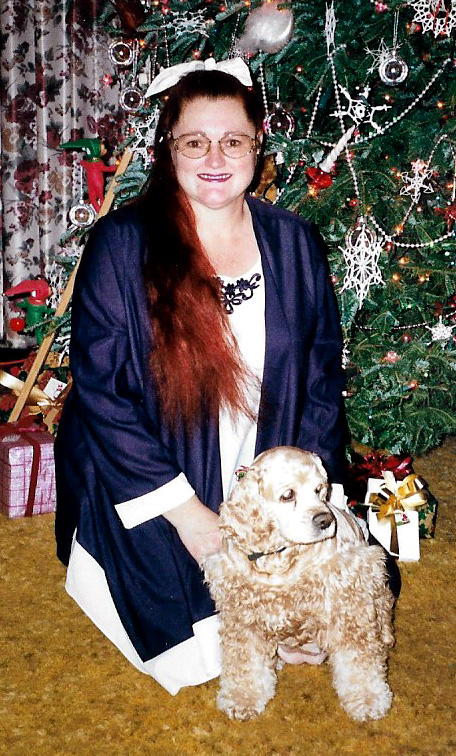 Me and Elsa May
This beautiful winter art print will add a bit of coziness to any room in your home or office!