"Sunset at Lake Osceola"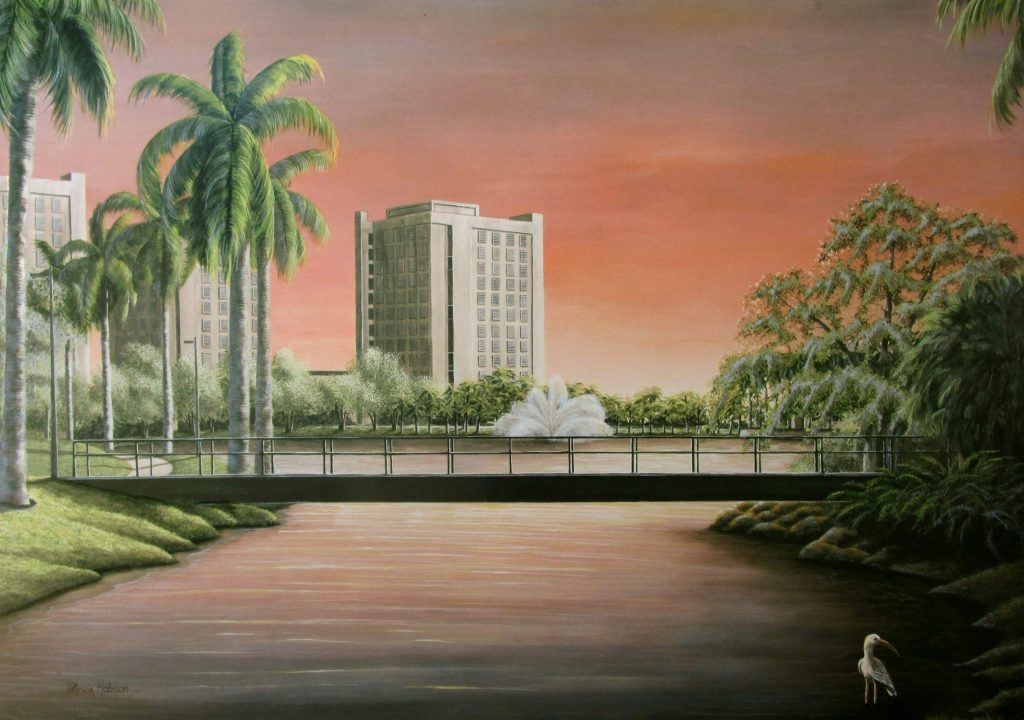 This print frames to the approximately: 27.75″ X 34.5″
Call or text –

336-341-8029

or Email –

patriciahobson@yahoo.com
About the University of Miami and Lake Osceola

Featured in

"Sunset at Lake Osceola"
I am proud to present my limited edition print "Sunset at Lake Osceola," a view of the campus of the University of Miami, Miami, Florida. This scene features the sun setting over Lake Osceola with its beautiful "Cobb" fountain. Across the lake are the residents halls where thousands of students, including my daughter, have spent countless hours enriching their minds and preparing for their professional lives. Tropical south Florida, palm trees and the university's walking bridge enhance the foreground. Of course, I could not leave out the university mascot, the "Ibis," who is standing right up front.
Through my daughter, Natalie, a 1998 graduate of the university, I have come to realize the pride which each student holds regarding this school. This print is of an image they hold so dear. The painting and prints were done with the express permission and blessing of the University and Alumni Association.
Lake Osceola was initially built as a canal to connect Bay Biscayne with surrounding bodies of water. However, after the construction of the University of Miami in the 1940's it was developed into a lake. Since the lake was still connected to the Biscayne Bay and other natural bodies of water all sorts of waterfowl, wildlife and various species of fish migrated and became established in and around the fresh waters of the lake.
Prior to the completion of the lake's construction in 1947, Lake Osceola was given its name by University of Miami's "Iron Arrow Honor Society" in honor of the Seminole Indian warrior Osceola, who died in prison after he led his people in an unsuccessful guerrilla war against the white settlers.
This beautiful print of the University of Miami and Lake Osceola will help students' keep their memories of their days there!