"Three Generations"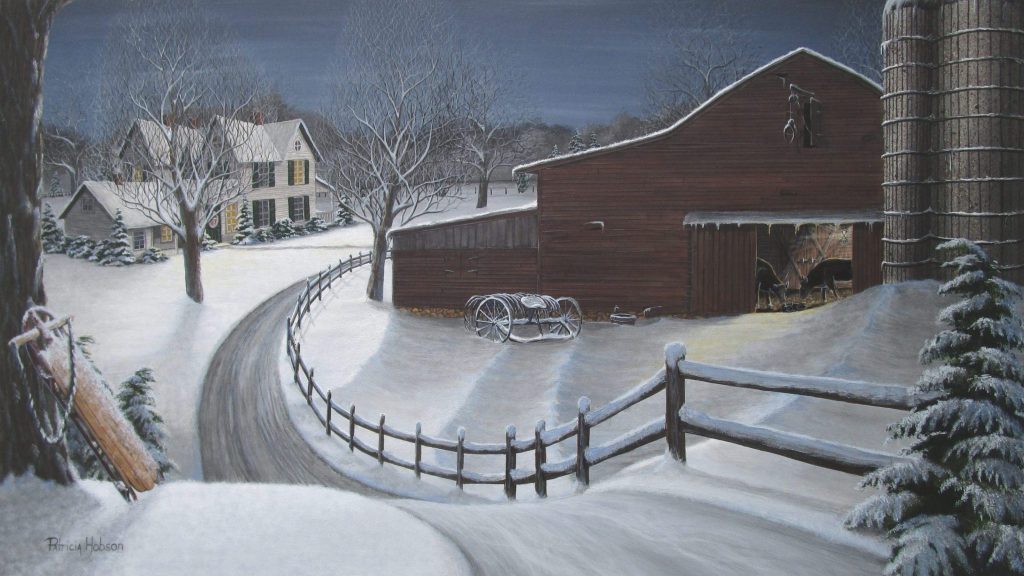 This print frames to approximately: 22.25″ X 31.5″
Order Your Print Today
Call or text – 336-341-8029 or Email – patriciahobson@yahoo.com
About this Country Art Print called

"Three Generations"
This country art print scene is located just outside of Winston-Salem, North Carolina. Even though there have been three generations of the Brewer Family that have lived here, the main reason for the name of this farm country art print was based upon the three generations of our favorite Holstein family of cows that are depicted taking refuge from the cold snowy evening in the barn.
As a lot of you may already know, my family and I live on what was my husband's and his family's dairy farm in rural Yadkin County, North Carolina. Consequently, we had this family of cows that were very special to us. The cow in the picture on the left was born on our farm on Christmas Day 1976. . My husband, Felix, helped deliver her in the pasture behind his Mom and Dad's home and carried the newborn back to the warmth of the barn with her mom following closely behind. For some reason, there was an unusual bond that would form between Felix and the new baby over time. Over the years, she had several calves to be born on the farm and was just the best mother. Also, it seemed that no matter which cow on the farm had a calf, she wanted to mother it too. She was surely born to be a loving mother and granny. Therefore, acquiring the name"Old Granny" which would follow her for the rest of her life. We were very blessed to have her live a full life of 23 years on our farm. With Felix and I by her side on a warm October morning in 1999, her heart slowly came to a stop. She is now buried in our front yard under a big Oak tree that she liked to lie under in life.
The cow on the right in the print is Molly, one of Granny's many daughters. On Christmas Eve 1992, after returning from a family gathering, I put the kids to bed while my husband went to check on Molly. He was sure she was going to have her calf that night. He ran into the house to get me and the camera. Although I was in my gown and ready for bed, not to mention that it was 8 degrees out side, I put on my oldest son's coat and his brogans that he wore to do his chores at the barn and headed out into the cold. What I saw was a scene of warmth and love that literally brought tears to both me and Felix. Granny and Molly were there licking Molly's newborn baby. The time was just a few minutes past midnight. It was as if Granny knew this was her grand-baby.
When I found the farm depicted in this painting, I knew it would be the perfect place for me to feature this scene. This painting will always be special to my family and me since it portrays part of our extended farm family of the farm.
This farm country art print will make a beautiful statement in any room of your home or office!