"Wish You Were Here"
This Key West art print is available in two sizes listed below:
Image Size: 14.5″ X 10.25″
This print frames up to approximately: 16″ X 20″
[wp_cart_button name="Art Print -Small -Wish You Were Here" price="50.00″ shipping="5″]
Image Size: 23.5 X 17.25″
This print frames up to approximately: 30″ X 24″
[wp_cart_button name="Art Print -Large -Wish You Were Here" price="75.00″ shipping="5″]
Since this beautiful Key West art print will be a limited edition, we are now taking orders prior to printing to help decide how large to make the edition. As soon as the prints are printed, signed and ready for pickup or shipping you will be notified.

Thanks for your patience!
All about the forgotten Key West painting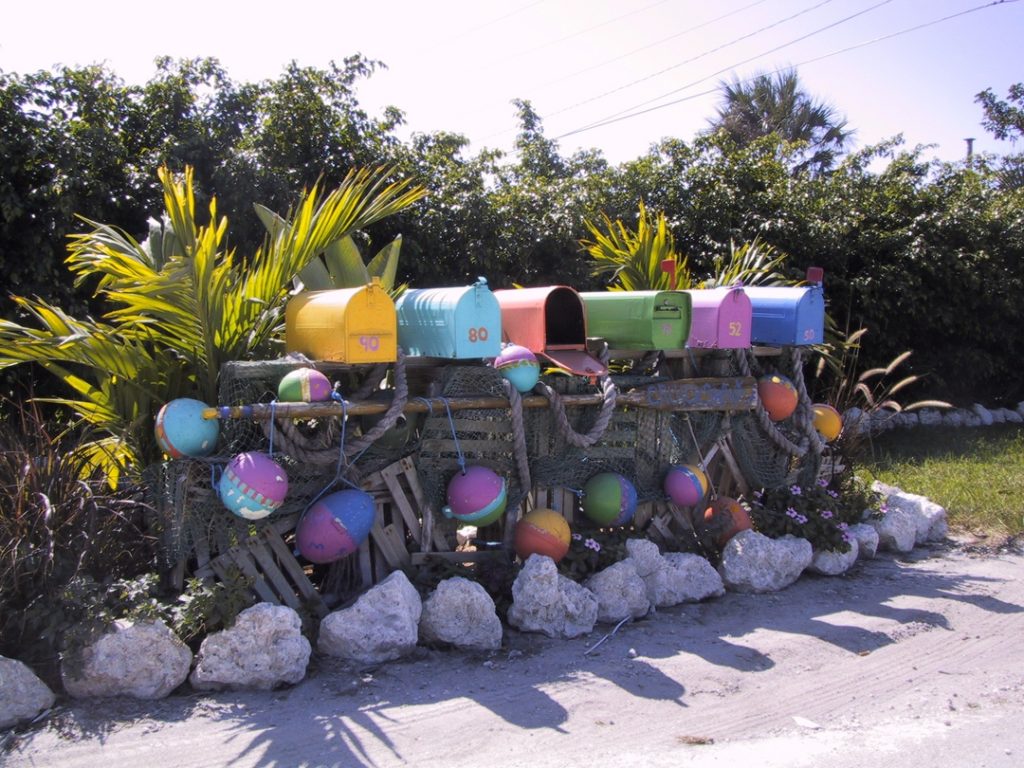 The photograph of mailboxes to the left was given to me by someone who lives in Key West, Florida about eleven years ago. I knew immediately that it would make a beautiful, relaxing, take me away Key West art print. Right away, I pulled a piece of canvas off the roll, cut it to size, drew my sketch and painted the sky. At that same time we found out that our house had termites and decided to move out to make repairs and remodel. Since, my Gallery here on the farm had a bedroom, kitchen and bathroom, we decided to live there until the house was finished. It was a wise decision. Mean while, I rolled up the barely started painting and put in the back of the closet to be forgotten.
It was January of 2008, we started working on the house with hopes of having it finished and moved back in by Christmas. So that summer, we sent all three of our kids an early Christmas gift of money for plane tickets so they could come home for Christmas. Our stipulations were that they all had to be here at the same time at least long enough to have a big family meal together and have a family portrait taken. We figured that would give them time to coordinate their trip. We also told them if they couldn't come they had to refund the money.
Well, November 1, 2008 came and we begin to fear that we were not going to be finished with the house and moved in by Christmas. So, we crossed our fingers and didn't say anything to the kids. As Thanksgiving approached, our daughter called and said that she and her brothers were planning to come home together but they would not be able to come till after the first of the year. I guess those crossed fingers worked! We continued to work feverishly so that we would finally be moved back in the house in time for our family's arrival which was set for January 15 the day before my birthday. As time moved on, we finally moved back into our house the very day of their arrival. We were exhausted and my back was killing me. I had been having a lot of pain in my back for a long time and just thought it was from a fall I had experienced a few years before and all the hard work we were doing on the house and farm.
Even though I was in severe pain, our family reunion was great especially since our visitors wouldn't let me do anything. They were here for a whole week. So, we had many family meals together and had that beautiful family picture taken. Little did we know that a week after they left that I would be admitted to the hospital with a spinal infection that would almost kill me, leave me in a wheelchair and keep me from doing my artwork for two years. That's a story that you can read about on my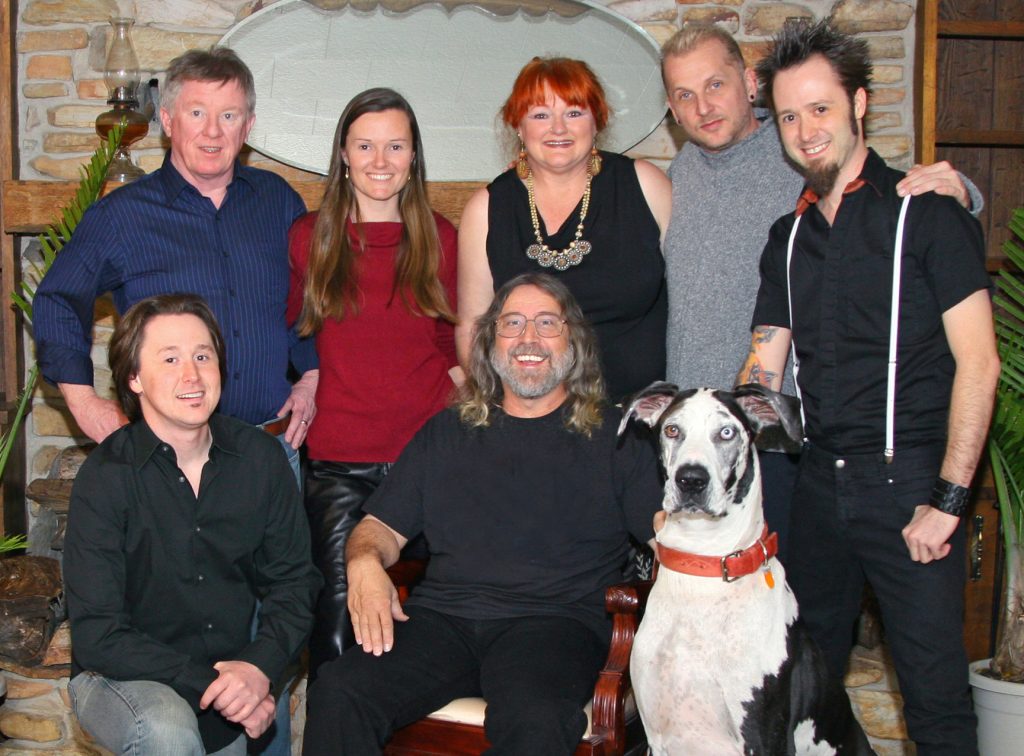 Our Family Portrait taken January 2009
As time moved on, I eased back into art doing paintings and prints. Before I knew it, it was 2017 and I was at a point of deciding what I wanted to paint next. Felix and I were discussing it when he reminded my of the Florida, Key West scene, that I had started so many years ago. He said that he thought he knew where is was. And, sure enough there it was still in the back of the closet at the Gallery. Outside of a little dust and few charcoal smudges it was in great shape. Once again, I was very excited about finishing this painting and making my first Key West art prints. After a long winter of work, it was finally all done.
Of course, I did take artist liberties by adding the house and palm trees when I did my sketch. After all, if there is a mailbox, there has to be someone living in close proximity. I based the features of the house on the one that was in my painting called "A Coastal Breeze." As many would know there are a lot of chickens that live freely on the island. So, I put a rooster on the weather vane. Because the island is know as being the home of the famous American writer, Earnest Hemingway, who was also know for having owned several six toed cats, I put a cat walking on the porch railing of the house. It is said that that a ship's captain named Stanley Dexter gave Hemingway a beautiful solid white six toed cat called Snow White in the 1930's. Sailors always had cats on board their ships to keep down the mice population and thinking that the extra toes made them better mousers as well as believing that they brought them good luck. There are still some 40 to 50 descendants of Snow white living on the island at the Hemingway home/museum. He named all of his cats after famous people. So, the care takers at the house still do. By the way, Hemingway's most popular book is "The Old Man and the Sea" closely followed by "The Son Also Rises."
Choosing a title for this Key West art print was easy. It just so happened that one of the mail boxes was left open giving me the opportunity to put an outgoing post card there that says "Wish You Were Here."
It may have taken nine years to finish. But, I honestly think that this is my very best work ever!
I hope you do too and would love to hear what you think.
Patricia
Hang this print on your wall and let it

"Take You Away"
Don't forget to sign up for my news letter.