"Let it Snow"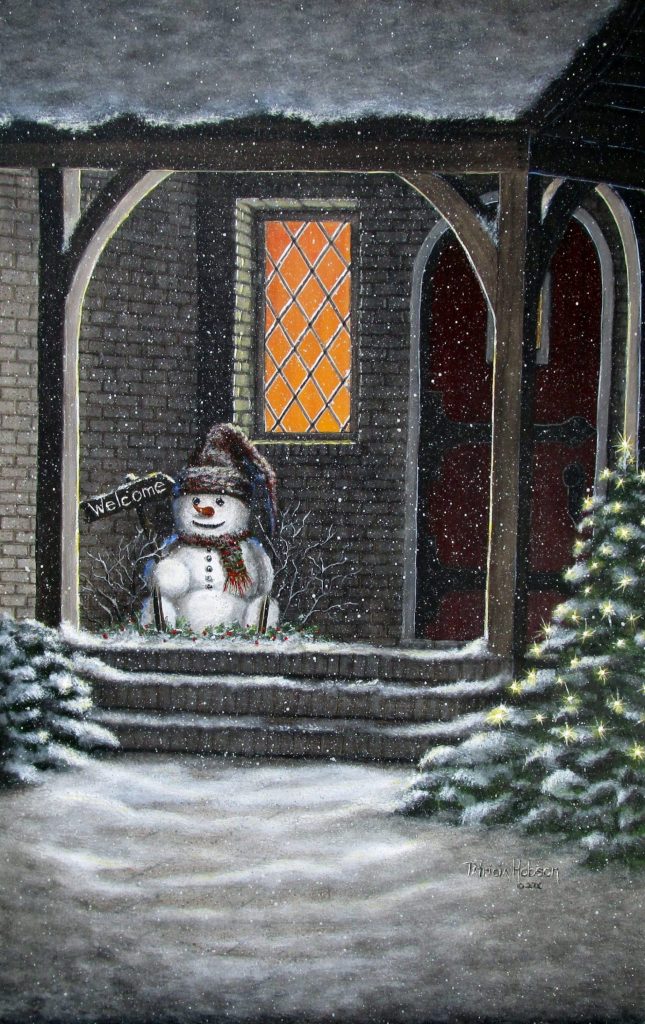 This print frames to approximately: 18.75″ x 22.75
Call or text –

336-341-8029

or Email –

patriciahobson@yahoo.com
The Story About Happy the Snowman in This Winter Art Print
"Let it Snow"
This winter art print began with a picture I took of a beautiful old Tudor style home that we admired while traveling through Pennsylvania a several years ago on the art show circuit. We found this house quite by accident. Like I said, we were heading to an art show in Philadelphia. As par for us, we made a wrong turn somewhere and ended up in a beautiful area around a lake in the outskirts of town. Then there it was. The house looked like it could have been in an English countryside. It had all the things that I loved. It almost looked Medieval with it's stained glass windows, arched doorways and of course ivy growing right up the brick walls.
Originally I had planned to have a wider view of the entrance of the house a put the snowman out in the yard. One day a friend ask me what I was working on. I told her about the scene that I was sketching. Then, she said "Well you know I used to live in Pennsylvania and we always put our snowman on the porch." Eureka! That was it. My snowman had to sit on the porch. And, since he was right there at the door, I gave him a welcome sign.
As I painted this little fellow, I could not help but smile. He just made me feel good. Then, with the last few strokes of the brush, my snowman was born. After finishing and looking him over, he still made me smile. So, there was nothing to do but name him "Happy." I have yet to find anyone that hasn't smiled when they saw him too. This Christmas art print looks great during the holidays in a grouping of holiday decorations. Some folks leave him up all year round.
It is my wish that this winter art print will bring lots of smiles to your home or office this year!
I have two more holiday winter art prints. Click on the images below to view each one.