"Our Daily Bread"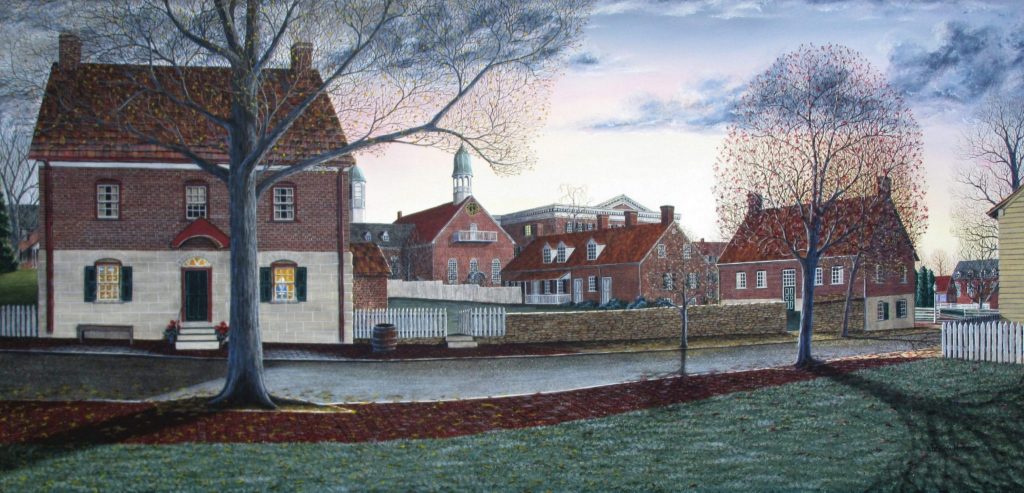 This print frames to approximately: 24.75″ X 40″
Call or text –

336-341-8029

or Email –

patriciahobson@yahoo.com
About the Moravian Village of Old Salem, North Carolina featured here in
"Our Daily Bread"
The fact that the word Salem means "City of Peace" is one that the majority of people are unaware of. To me, the feeling of Salem being the city of peace could not have been more appropriate that fall morning. I saw the beautiful yellow, blue and pink colors of the sun rising behind the Moravian Church in the historical Old Salem Moravian Village in North Carolina located just outside of Winston Salem, NC. The colors in the sky, the quiet stirring of the morning breeze against the drying leaves and the smell of the smoke from the fires heating the brick ovens of the famous Moravian Winkler Bakery could not be more inspiring. As I glimpsed through the window one of the ladies preparing the bread to be baked for that day as others were waking only added the finishing touches to an already near perfect scene. Also featured in this fall scene is the Boys School, the book store, Home Moravian Church and a bit of Salem College in the distance.
The Moravian's initially came to NC from Pennsylvania. They had purchased a 98,985-acre track of land where Salem was to be the central town. This town was to be the central economic, religious and administrative center of this tract of land called Wachovia. They first settled in Bethabara and began the construction of Salem in 1766. to build the central economic, religious, and administrative center of the Wachovia tract. The five outlying communities of Bethabara, Bethania, Friedberg, Friedland, and Hope focused on agriculture. Salem and most of the other communities were controlled by the church, which owned all of the property and only leased land for construction. All the people in the communities had to be members of the church and could be expelled from the town if they acted contrary to the community's regulations.
This village is a destination of many tourist and school children all year round especially during the Christmas season. Folks line up for admittance to the "Candle Tea" events that are celebrated every year.
"Our Daily Bread" is the third in my series of scenes of the Old Salem Moravian village in North Carolina. The first one was "Salem Radiance." The second was simply called "Salem." All of these prints are available on a very limited basis.
This beautiful historical piece of art will make a dramatic focal in your home or office!
Click on the links below to view the other two Old Salem prints that I have available!