"Salem Radiance"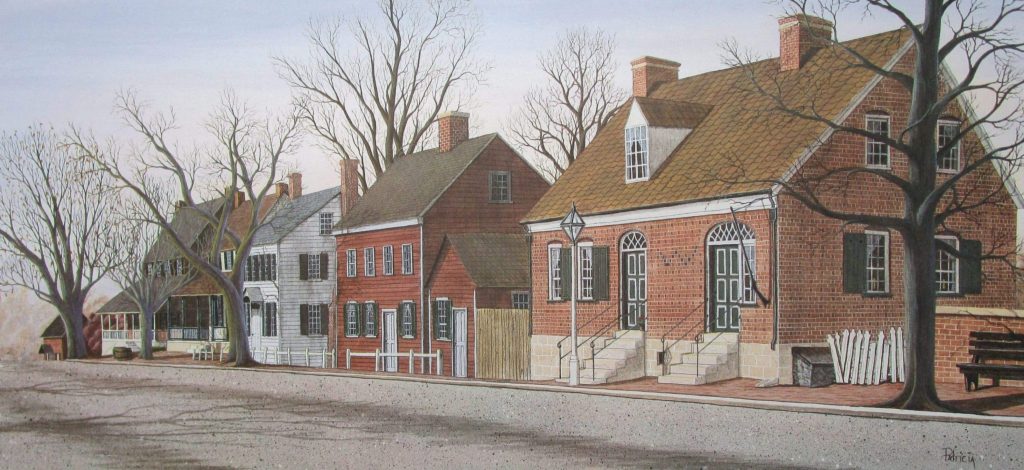 This print frames up to approximately: 21.75″ X 34.5″
Call or text –

336-341-8029

or Email –

patriciahobson@yahoo.com
About the Moravian village of Old Salem, North Carolina featured in

"Salem Radiance"
The Moravian village of Old Salem, North Carolina is a historic district of Winston Salem, North Carolina. The buildings and surrounding area is a living history museum that interprets the restored Moravian community. There are people dressed, walking the streets and working in the buildings as folks did at the time the community was established. This limited edition print of Old Salem is the first of three Old Salem scenes that I have done. It was actually cold winter day that I was walking the streets and snapped the photograph of this row of buildings that I used to sketch the painting of this scene.
The main building pictured in this piece was built in 1797 by the gun smith for his residence. Below the gunsmith's house is the shoemakers shop and residence. The white building after that is a private residence was built by John Christian Blum and served as Salem's first print shop. In 1828 he began printing the Farmers and Planters almanac which continues to be printed today as the Blum's Almanac.
Below you can read a short history of this historic village.
The Moravian's initially came to NC from Pennsylvania. They had purchased a 98,985-acre track of land where Salem was to be the central town. This town was to be the central economic, religious and administrative center of this tract of land called Wachovia. They first settled in Bethabara and began the construction of Salem in 1766. to build the central economic, religious and administrative center of the Wachovia tract. The five outlying communities of Bethabara, Bethania, Friedberg, Friedland, and Hope focused on agriculture. Salem and most of the other communities were controlled by the church, which owned all of the property and only leased land for construction. All the people in the communities had to be members of the church and could be expelled from the town if they acted contrary to the community's regulations.
This village is a destination of many tourist and school children all year round especially during the Christmas season. Folks line up for admittance to the "Candle Tea" events that are celebrated every year.
This beautiful historical piece of art will make a dramatic focal spot in your home or office!
Click on the Links below to see two more Old Salem prints that I have available.