"The Guiding Light"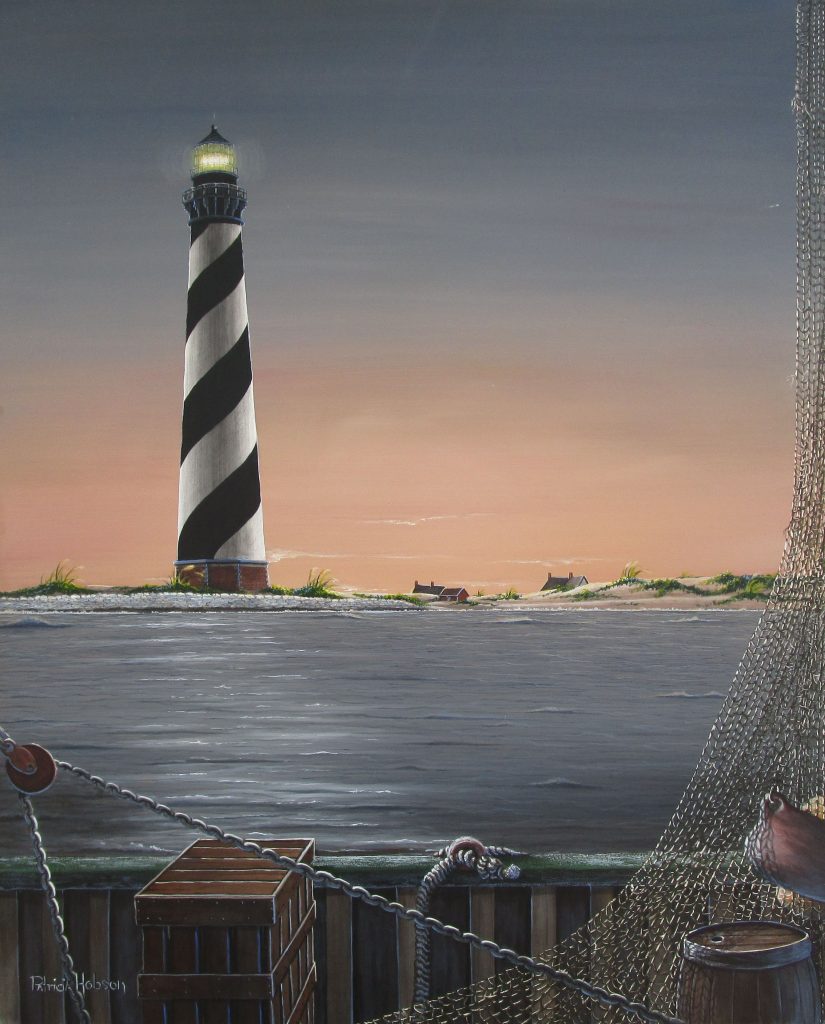 This print frames to approximately: 24.5″ X 27.75″
Call or text –

336-341-8029

or Email –

patriciahobson@yahoo.com
All About "The Guiding Light" featuring the Cape Hatteras Lighthouse in North Carolina
Light houses, as many of you know have been a popular subject with artists for a very long time. After having several request that I do a painting and limited edition print of one of our North Carolina light houses, the Hatteras Lighthouse in particular, I decided it had to be a view that was different. Most of the paintings that I had seen of lighthouses here in North Carolina were views of them as seen from the beach or mainland. So, I decided to do a painting of the Cape Hatteras Lighthouse in North Carolina as seen from the water.
I chose to do the view of the lighthouse as seen from an old fishing boat coming in after a long day of fishing. After all, lighthouses are meant to be seen from out in the oceans. Even though I already had my own pictures of the lighthouse, I went to the library and looked for more as well as pictures of old fishing boats. After pooling all these pictures in my mind, I began to draw. When the sketch was done, I began to paint. I am proud to say that the finished painting/print has been one of my most popular pieces.
Cape Hatteras is the most popular of NC's lighthouses. It was constructed in 1802 on Shell Island with a budget of $44,000. In 1868 it was decided that a new light was to be constructed at Cape Hatteras and a budget of $80,000 was appropriated. The new lighthouse was finished and the light was lit on December 16, 1871 at a cost of $167,000 over twice the amount initially appropriated. Being in grave danger of falling into the Atlantic, the older house was demolished in February 1872.
The new light would become the tallest brick lighthouse tower in the world. In 1999 with the danger of being engulfed by the Atlantic International Chimney Corp. of Buffalo, New York was tasked with moving the lighthouse 29,000 feet inland. All of it's support buildings were moved and placed back into their original orientations to the tower were they still are today.
This nautical art print will make a majestic statement in any room of your home or office

.
Click on the image below to see the other lighthouse print that I have available.
"An Ocracoke Evening"